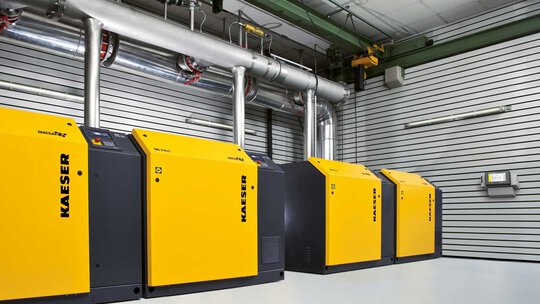 To save space, multiple COMPACT blower units can be installed side by side. All maintenance and installation work can be performed through the front or top of the unit. All valves are mounted directly on the blower unit. The pipe connections and cooling air apertures are located at the rear.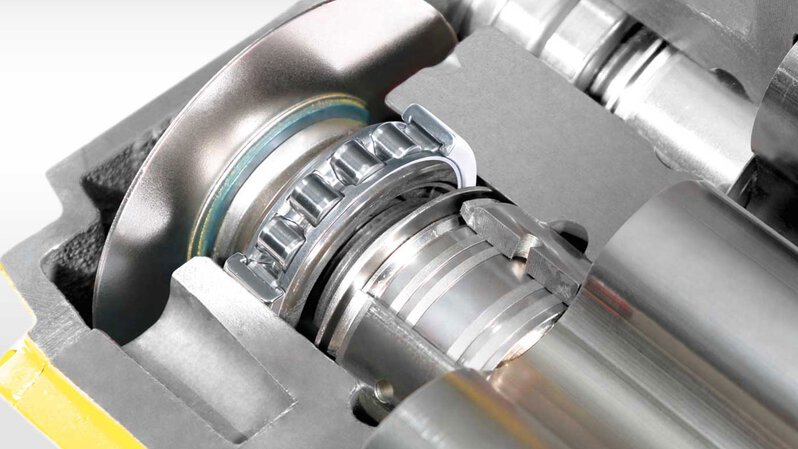 The OMEGA blower block delivers pressures up to 1000 mbar(g), block discharge temperatures up to 160 °C, a broad control range with speed-controlled operation, Q 2.5 rotor balancing for quieter operation, extended service life and minimal maintenance requirements.
An extremely high rotor balancing quality of Q 2.5, combined with the rotors' single-piece design including the shaft ends, ensures a vibration-free, low-noise operation. Rotor tips with integrated sealing strips ensure the blower block is more resistant to dust particles and thermal stress.
Easy to install, COMPACT blowers from KAESER are not
only designed with minimal operating and maintenance
costs in mind, but also to provide maximum reliability.
Furthermore, blowers equipped with an integrated controller and star-delta starter, or frequency converter (for flexible speed control), significantly reduce the amount of work
required for planning, installation, certification, documentation and commissioning.
Integrated engineering
COMPACT rotary lobe blower packages are delivered
complete with sound enclosure and an optionally integrated frequency converter, or star-delta starter, as power
switching equipment. All electrical equipment is dimensioned according to required performance data and is
wired and programmed for EMC compatibility in accordance with applicable regulations.
Connectivity and safety
Using various sensors, the optional internal SIGMA
CONTROL 2 blower controller monitors and controls all
relevant parameters to provide reliable and efficient operation at all times. Available remote monitoring and control
further contributes to optimised blower availability.
A variety of communications modules ensures seamless
connectivity of SIGMA CONTROL 2-equipped blower
systems to master controllers such as the SIGMA AIR
MANAGER 4.0 and/or other centralised control systems.
Durability and efficiency
As with all KAESER products, COMPACT series blowers
are designed and constructed to deliver maximum efficiency, reliability and durability. Together with their minimal
maintenance and service requirement, these versatile
blowers assure lowest possible life cycle costs.